Are Tennessee's Children Learning to Read? Mayor Tim Burchett Asks the Question in Knoxville.
Knoxville mayor Tim Burchett is leading on education, highlighting the importance of early literacy: "I say, before we raise taxes, let's tackle this core problem." Other local officials in Tennessee are beginning to recognize the problem in their schools (see charts below).

Reading is the most essential skill that children learn in school. It is taught over a 4-5 year period that begins in preschool or kindergarten and extends to 3rd grade. Beyond 3rd grade, schooling turns from learning to read, to reading to learn.

Promoting children to the 4th and subsequent grades without sound reading skills not only reduces their chances of success, it misleads their parents about the child's progress, it unloads poorly equipped and discouraged learners on middle and high school teachers, and it violates the spirit if not the letter of Tennessee's 2011 law against socially promoting unqualified students.

Social promotion of students who lack mastery of reading ignores their needs, drags down the progress of all students, and makes schooling vastly more inefficient and expensive. Children who cannot read simply cannot fully benefit from their educational opportunities. They need more help, more contact hours of teaching, and more specialized treatment – all of which takes more teachers, more specialists, and more time in school.


Testing results of the past 20 years show that less than half of Tennessee's school children are mastering reading by the end of the 3rd grade.
Click on the links below to see whether children in your local schools are reading or just being promoted:
• Anderson, Blount, and Nearby Counties 2012 2013 2014 2015 2017 2018 2019
• Hamilton County 2012 2013 2014 2015 2017 2018 2019
• Knox County 2012 2013 2014 2015 2017 2018 2019
• Nashville 2012 2013 2014 2015 2017 2018 2019
• Sumner, Rutherford, & Wilson Counties 2012 2013 2014 2015 2017 2018 2019
• Williamson and Nearby Counties 2012 2013 2014 2015 2017 2018 2019
• Shelby County (use legal-size page) 2012 2013 2017 2018 2019
• Washington, Johnson City, and Nearby 2012 2013 2015 2017 2018 2019
• Madison and Nearby Counties 2014 2015 2017 2018 2019
• Chester, Decatur, Fayette, Hardin, Hardeman, Haywood, Henderson, & McNairy Counties 2019
ECF also offers the following district-level charts:
• West Tennessee 2012 2013 2014 2015 2017 2018 2019 2021
• Middle Tennessee 2012 2013 2014 2015 2017 2018 2019 2021
• East Tennessee 2012 2013 2014 2015 2017 2018 2019 2021
• All Districts Economic Disadvantage vs 3rd Grade Reading Proficiency by District
You can also compare schools in Tennessee and any other state by visiting our interactive charts of "3rd-grade reading proficiency versus poverty: http://education-consumers.org/school-performance-nationally/
After two years, Knox County third grade scores down despite $3 million literacy grant. Mayor Burchett again calls for improvement.
Mayor Tim Burchett of Knox County (Knoxville), Tennessee continues lead a call for the Knox County school district to find a way to improve its early reading scores.
In 2012, a district request for a $5 million budget increase was met with County insistence on a targeted effort to improve early reading scores.
State testing data showed that only slightly more than half of the district's students mastered reading by grade 3. Only 27 of district's 48 schools were above the state average (see story and charts above).
Nearly seventy percent of these students would be likely to drop out or graduate unprepared for college or career.
Instead of a permanent budget increase, the County government gave the district a $3 million grant targeted to the early reading problem.
Now the results are in and they are disappointing.
The number of district schools beating the state average has dropped to 20 according to Tennessee's 2014 School Report Card.
As described in the Knox News Sentinel editorial below, the Knox County school system is struggling to find an effective intervention program–a predictable result given the often uncertain familiarity of teachers and supervisors with proven teaching practices.
The Knox County leadership is expecting a solution to their reading problem from the same personnel who have presided over decades of failure. One assumes that if they knew a better approach, they would have implemented it long ago.
Effective and inexpensive interventions are available. For situations that require a fix without days and weeks of teacher training, we recommend a computer-based program that costs about $35 per student and can be used by trained volunteers: https://education-consumers.org/computer-based-instruction-produces-catch-growth/ Educators resist the use of these approaches, preferring instead to insist that "real" learning requires a "real" teacher.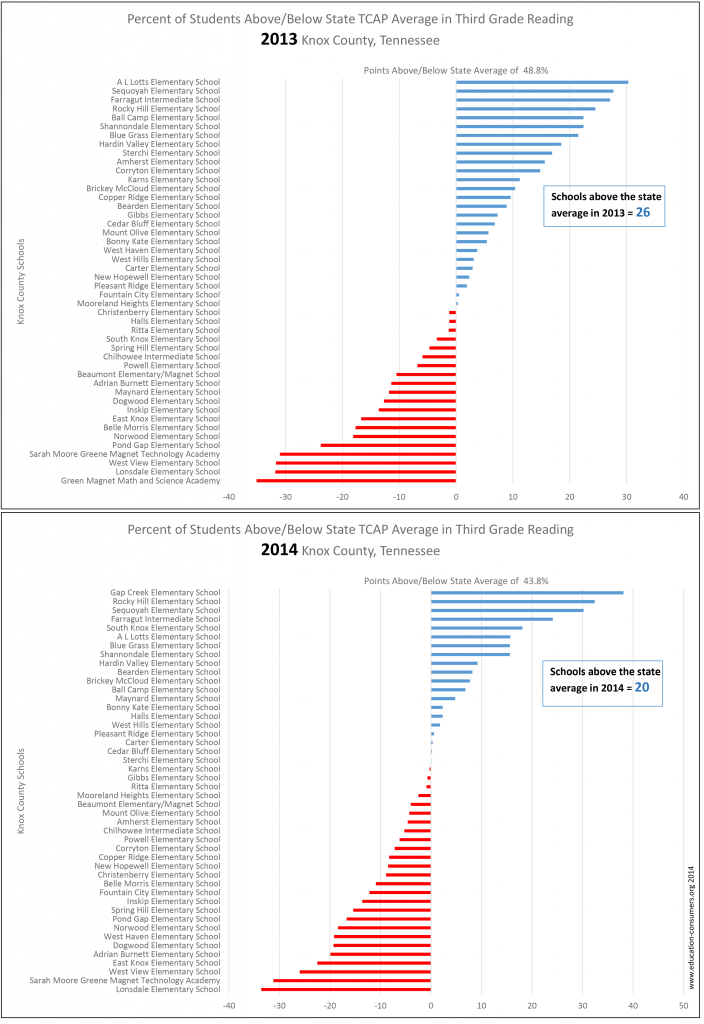 News reports reflect a growing public concern:
Knoxville News Sentinel
http://archive.knoxnews.com/news/local/knox-reading-scores-up-down-ep-767066499-353954451.html/
Knox reading scores up, down
Lydia X. McCoy
9:52 PM, Nov 12, 2014
local news | my kid my school
https://archive.knoxnews.com/opinion/editorials/editorial-mcintyre-must-be-clear-about-reading-program-ep-772015223-353933961.html/
Editorial: McIntyre must be clear about reading program
3:00 AM, Nov 16, 2014