According to the National Assessment of Educational Progress, only a third of 4th-grade students in the U.S. read at a proficient level.  Approximately 70% of the two-thirds who are not up-to-speed in reading will either drop out or graduate unprepared for college or the workplace (i.e., they will require remedial studies or struggle with on-the-job training).
Dropouts and unprepared graduates are an economic burden to themselves and taxpayers.  Their educational attainment is a barrier to self-sustaining wages.  Over a working lifetime, they absorb distressing levels of publicly subsidized welfare, health care, public safety, and training.
ECF's online calculator estimates the costs (and potential savings) of reducing these numbers.  Users need only to select their state, county, district, and school to estimate the number of dropouts and unprepared graduates per year produced by their local schools and the resulting taxpayer costs. 
Even modest levels of improvement can result in very substantial annual savings.  The average lifetime costs resulting from these schooling failures are approximately $90,000 for dropouts and $30,000 for unprepared graduates.
Reading Failure Imposes a Hidden Annual Surtax
COST CALCULATOR:  Estimate How Much Your School or District Contributes to the Problem

Students who can't read by the end of third grade are burdened for a lifetime but so are their communities.  For every student who fails to master reading, the public is saddled with what amounts to a hidden annual surtax imposed at the local, state, and federal levels – one that cumulates with each succeeding class of students.
The Education Consumers Foundation's automated calculator can tell you how much the schools in your district or state are contributing to the problem and how much their failure is costing you in added taxes for welfare, criminal justice, healthcare and education.
How large is the Early Reading Instruction Problem?  Very!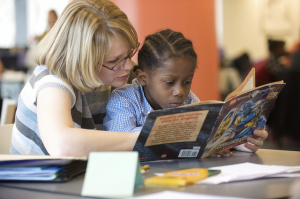 Some say that children with social and economic disadvantages can't learn. However, the Education Consumers Foundation's analysis of data in every state contradicts that conclusion.  There are schools in every district that greatly outperform their demographic peers.
Click here to review school performance charts in states across the US.
Addressing the Reading Problem:
Change is Possible and Proven

"We never really leave our nonreading children behind. We may forget about them, but we are chained to them socially and economically. Like a ship and it's anchor, we must either lift them up or drag them along behind us." – Lynn Fielding
While reading challenges seem impossible to overcome (in light of the long-stagnant scores seen in state and federal reading assessments) the reality is that bold change agents have made remarkable strides.  Moreover, they have the hard data to prove it. School board members in Kennewick, WA documented their approach in Annual Growth, Catch-Up Growth. 
---
Clear Teaching – The Book

Written by veteran journalist Shepard Barbash over a period of 10 years, Clear Teaching is a well-researched, highly readable introduction to Direct Instruction (DI), a systematic teaching approach which for more than 50 years has dramatically improved learning outcomes for students of all abilities and from all walks of life.
Clear Teaching looks at the development of DI through the early experiences of its creator, Zig Engelmann and explains the principles that underpin his approach. It also describes DI's reception in the world of teaching where it was effectively shunned despite a formidable research base and exemplary success.
A print version of Clear Teaching can be ordered from Amazon or downloaded here; Bulk paperback copies are available from the Education Consumers Foundation.
More by Shepard Barbash:  PreK Can Work
---
 How Rigorous Are Your State's Proficiency Standards?

Each state defines the "proficient' level of reading based on its own testing and standards.  Some states have rigorous and high standard and others require a lesser level of performance.
In order that you might compare your state with others, ECF has created charts showing the percentage of students deemed proficient in reading for each state and compared them to the percentages found by the National Assessment of Educational Progress (NAEP, or "The Nation's Report Card"), The NAEP is considered to be the gold standard.
---
 Reversing American Decline: An Overview

Reversing American Decline links America's current economic, social, and cultural directions to decades of failed public schooling–especially to ineffective reading instruction.  The result has been that a huge swath of the electorate has been excluded from the literate culture.  The problem is correctable but can't be solved overnight.  Public awareness and community focus on local school board leadership are the keys to change.