Tuesday, April 21, 2009 – 8:30am to 11:30am
Nashville Hilton Downtown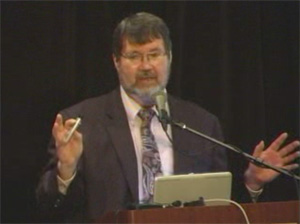 Lynn Fielding, school board member in Kennewick, WA and co-author of Annual Growth, Catch-up Growth, served as a keynote speaker at Prepared to Learn, an April 21, 2009 event hosted by the foundation in partnership with the Tennessee School Boards Association. Visitors can view his presentation through the clips below.
Note that this video is provided in MPEG-4 format, which is best viewed with Apple's QuickTime media player. This application is free, and can be downloaded here.
For more information from the event, go here for the main event page, which includes links and PowerPoints, or go here to see video clips of Direct Instruction in action.
Mr. Fielding's presentation has been provided in the following video segments:
If you have any questions or comments, please feel free to contact us through our contact page; a representative of the foundation will contact you shortly.