In most states, a school district's number of proficient third-grade readers is highly predictive of the number of 8th graders who will be proficient five years later. The significance of this fact is that 8th-grade reading skill is highly predictive of high school outcomes and preparedness for work and college. In other words, third grade reading success is vitally important because it predicts the trajectory of a child's educational career.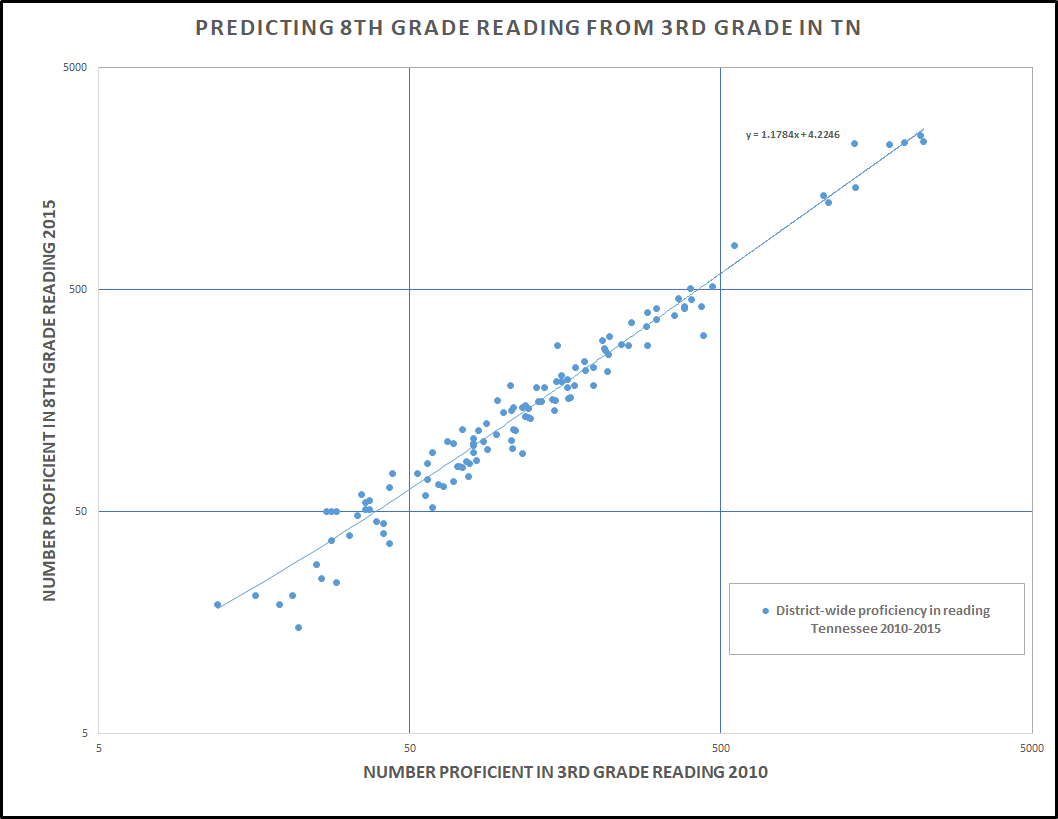 The above chart school district reading scores illustrates the relationship between third and eighth-grade scores in Tennessee. Each dot represents a school district at third grade and five years later at grade eight. As you can see, for the average school district, the number of students who were proficient readers in the third grade is about the same as the number who were proficient in the eighth grade five years later. Some students may have improved and others may have regressed, but the total number stayed about the same.
The take-away from this chart is that once a child starts on a given achievement track, they tend to stay in that track. Thus, if you hope your child will attend and graduate from college, it is important to bring them up to a proficient level of achievement early in their school career.
The longer a child progresses at a sub-proficient achievement level, the more difficult it will be for he or she to move up academically. A series of highly effective teachers or tutor-assisted teaching can help, but the longer the substandard performance continue, the more work it will take to recover.
These challenges have been known for years but today there are instructional alternatives that can beat the odds. Teaching tools that can accelerate achievement growth are becoming more widely available. In reading, for example, there are reading instruction methodologies that can accelerate achievement growth to one and one-half or two years per school year—with a diligent effort.
Funnix, an inexpensive computer-based reading program that we recommend, was designed for use by homeschooling parents and it can routinely produce exceptional rates of growth. Funnix is based on a type of reading instruction that was developed for use with at-risk students. Other highly-effective programs are Direct Instruction and Success for All. Both require formal training.
For more on differences in teaching methodologies see Research and Innovation: Let the Buyer Beware.