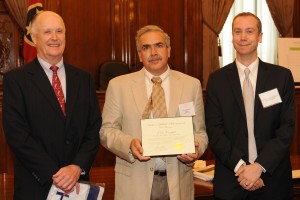 Third Place, East Division, K-8/Middle Schools
JR Campbell, Principal
4226 Highway 321
Butler, TN 37640
Carter County Schools
Visit website
Reporting on the Award: Johnson City Press,Elizabethton Star
Recipe For Success:
Little Milligan Elementary is a Pre-K – 8 school in rural Carter County. Of the 155 students, 88% are economically disadvantaged. Our goal is to prepare our students to be life long learners so they will be able to meet the challenges of a quickly changing world.
The success of our school can be attributed to many things. One of our strengths is that our staff functions as a family and is closely connected to the students as well as to the community. The veteran faculty has an undaunted work ethic and genuine concern for the students, meeting their needs both basic and academic. This close knit family relationship is vital to the success of our school.
Little Milligan teachers have a deep knowledge of the content and use varied methods to teach the skills. Whole group instruction is used along with various forms of small group instructions to create a varied learning environment. These practices are enhanced by interactive white boards, a computer lab, iPads, and iPods to take advantage of research based online enrichment programs such as Study Island and IXL Math.
Data analysis has become critical in meeting the academic needs of our students. Classroom assessments, TCAP scores, TVAAS data, Think Link data, and STAR Early Literacy data along with reports from Study Island and IXL Math are used to make instructional decisions. Analysis of this data is also used to target the needs of students who participate in our after school program.
At Little Milligan Elementary School, teachers, staff, parents, and the community work to inspire students to achieve growth in academics and strive for their best possible future. We are proud of our accomplishments and realize it is a team effort.