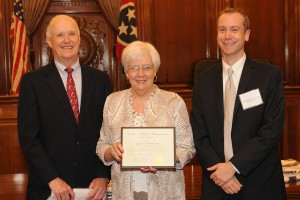 Second Place, West Division, Elementary Schools
Lynne Shuttleworth, Principal
425 Berry Street
Jackson, TN 38301
Madison County Schools
Visit website
Recipe For Success:
As principal of an elementary school that serves a 96% minority population, I am extremely proud and honored to receive this award for the third consecutive year. My faculty has worked diligently with our students to help achieve and continue this growth. Positive relationships and high expectations from the entire staff continually support our student achievement. We adhere closely to schedules because every minute in the school day is crucial. We strive to maintain a safe, orderly environment for our students, dealing with misbehavior, interruptions, or disruptions quickly and respectfully. Listed below are the ingredients in our recipe for success.
A compassionate, dedicated faculty and staff that support the goals of the administration.
A strong leadership team that meets on a regular basis to review policies and procedures and make school decisions.
A school-wide discipline plan that is aligned with rewards to address both short-term and long-term behavior along with academic success.
An uninterrupted reading and math block for the entire school.
Constant principal visibility that supports and encourages teachers and students.
Collaborative grade level teams that meet on a weekly basis with the principal and/or the instructional coach.
Formative assessments, aligned with state standards, are given at regular intervals throughout the school year.
Consistently disseminated test data that is utilized for planning, for specific skill instruction and for interventions along with specific skills to challenge advanced students.
Documented classroom files for each student are used to monitor the progression of assessments, reading and math levels, and serve as a checklist for completion and success with intervention plans.
As principal, I prefer teachers teaching in their strongest areas. They do an excellent job with their instructional planning and they teach with enthusiasm.
As principal, I also believe that it is important to choose new personnel that are team players, and those that will be a good fit for our school culture. A wrong choice can be detrimental to a positive school climate.