[custom_frame_left shadow="on"]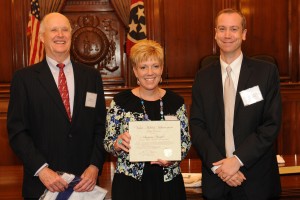 [/custom_frame_left]
Second Place, East Division, Elementary Schools
Suzanne Wampler, Principal
2125 Fairview Road
Morristown, TN 37814
Hamblen County Schools
Visit website
Recipe For Success:
We at Fairview-Marguerite Elementary believe that each child is a unique personality who is to be respected, is capable of learning, can be trusted, and can be taught to assume responsibility.  As principal, I am extremely proud of the staff and students who worked hard to achieve this award.  The staff is committed to making Fairview a place where student learning is an overriding priority.  They take responsibility for improving student achievement and building a community where all stakeholders take responsibility for school improvement.  Listed below are ingredients in Fairview's recipe for success.
A safe, positive learning environment for all students and staff.
The recruitment of teachers who are committed to helping all students and will be a good fit for our school culture.
Data assessment team to determine strengths and challenges of the school as a whole, as well as the various subgroups.
Creating a schedule where teachers have input and where every minute of the day counts (bell-to-bell instruction)
Providing opportunities for teachers to collaborate with peers on instructional improvement.
District Instructional Coaches to work with teachers on effective teaching strategies, use of technology with students, and meeting the different learning styles of today's students.
Teachers using data to drive instruction and individualized lesson plans to meet the needs of all students. (e.g. Think Link, DIBELS)
Support staff who work with students on skills identified by a supervising teacher.
Tutoring for students who have scored just at, or below proficient on the achievement test in Reading/Language Arts or Math.
Concerted effort to reach out to parents through teacher communication, positive phone calls home, weekly and monthly newsletters, and school website.
Communication, both written and verbal, in English and Spanish to assure that the entire community has the opportunity to be informed.
Parent nights to share technology and skills needed to assist their students in having a positive school experience.