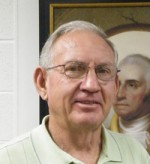 First Place, Middle Division, K-8/Middle Schools
Bob Edens , Principal
323 S Main Street
Cornersville, TN 37047
Marshall County Schools
Visit website
Recipe For Success:
1. Hire teachers who love children and love teaching.
2. Guide the teachers and let them teach.
3. Try new ideas and new teaching strategies, if it does not work find something else. Don't be afraid to change.
4. Know the standards of the subject and teach them.
5. Develop a relationship with the student, one in which they know you care.
6. Have an open communication line with all the parents with personal contact, emails, phone calls, visits, etc.
7.Practice intervention and remediation in every classroom.
8. Hard work from teachers and students.
Principal's Building Level Reality
1.Strong student discipline
2. Organizing and scheduling
3. Teacher selection, evaluation, and assignments
4. Curriculum management
5. Strong communication with teachers and staff, parents, public, central office
6. Interpretation of accountability data
7. Running an athletic program by rules of the TSSAA