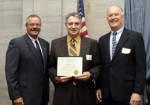 Second Place, Middle Division, Elementary Schools
Bill Johnson, Principal
420 Old Highway 31 E
Bethpage, TN 37022
Sumner County Schools
Visit website
Recipe For Success:
The only thing that has changed from last year's recipe is the fact that Bethpage Elementary School has been nominated as a National Blue Ribbon School by the United States Department of Education. We have completed the necessary documentation and summated our findings to the U.S.D.O.E.
The recipe used to create Bethpage Elementary School is a combination of precious ingredients, each unique and wonderful, yet perpetually equal in the contributions they provide to the whole. If any component were deleted or allowed to eclipse the others, Bethpage Elementary School would cease to be the respected educational institution it is known to be today.
The ingredients, that blend so smoothly, begin with a cluster of dedicated teachers and support personnel that perform their jobs with enthusiasm and professionalism. Then we add a team of central office support staff that is "second to none." Next, we stir in one loyal Parent/Teacher Organization with grand dreams and strong backs. The school really begins to take shape as we fold in a team of 242 students in grades K-5, along with their families. They shape the Bethpage community and rally round the school with devotion and an overwhelming presence and network of aid and sacrifice.
Their commitment and interest in Bethpage Elementary are evident when families fill the building for holiday programs, parent/teacher meetings, and to help volunteer for any project. Our school really serves as the "center" of the Bethpage community. The building is often used for benefits, church functions, community meetings, and even family reunions.
The school maintains weekly communication with all parents through a folder sent home with every child on Wednesday. It contains a weekly newsletter that shares upcoming events, a monthly calendar that lists each child's birthday, breakfast and lunch menus from the cafeteria, and student work. Phone, email, school web site, and one-on-one meetings are samples of teacher and parent communication.
Community members and parents also belong to our Parent/Teacher Organization. Their help is irreplaceable. They pay the salary for our computer lab instructor, purchase software and hardware, buy journals, books, TCAP review materials, and provide daily, morning snacks for all students taking the TCAP test. Several thousand dollars have been spent to upgrade the school playground, which also serves the community when school is not in session.
Bethpage is located in rural, northeastern Sumner County. We occupied our present building in the fall of 1992. (Bethpage school has a history dating back to the early 1900's.) The building itself is as clean and beautiful today as the day we moved in. We believe that a clean, well-kept building, presents a safe and sound educational environment for the children, parents, and school staff.
No recipe is complete without a few herbs, spices, and seasonings. Bethpage sprinkles them liberally into the mix. Qualified art, music, physical education, and library teachers provide exceptional instruction weekly. Special programs such as Resource and Speech/Language are available for our students with special needs. The Junior Beta Club provides peer tutoring for primary grade children.
Bethpage is a Title I school with over 58% of the student population on free or reduced lunch. Our Title I program is school wide. We have named it SWAAP (School Wide Academic Advancement Program). This is a reading program that addresses our marginal readers and strives to bring them up to grade level. SWAAP holds four parent meetings per year. Two after school and two during school hours. The goal of these meetings is to provide parents with skills that they can implement to help with reading and homework skills. Activities during these meetings involve parents and children working together on projects and spending quality time together. Children receive books when they bring their parents out to night meetings. Another component of the SWAAP program is BELP (Bethpage Early Literacy Program). It is an intense reading program that serves all first graders.
Saxon Phonics and Math are integrated into our K-2 curriculums. The DIBELS reading assessment is also used with K-2 students as an indicator of the student's capacity for reading success. "TCAP Coach" and "Test Ready" study guides are available for grades 3-5. Language Arts, Math, Science, and Social Studies are presented in the TCAP format. " Study Island" is a web based computer program that implements the TCAP format to deliver information and questions. This program allows students to log on at school or at home.
Programs held after regular school hours are vital to our mixture. The YMCA has childcare daily until 6:00PM. The school library is open each Tuesday and Thursday from 4:00PM until 7:00PM. We have two after school tutoring sessions. One session serves primary students and the other is dedicated to intermediate students.
Our highly qualified staff of teachers are very familiar with works by noted educators such as Todd Whitaker, Bob Marzano, Larry Bell, Marcha Tate, Judith and Evan Gould, Marilee Springer, and Susan O'Connor. Publications by these authors have been provided to Bethpage teachers for several years. Our teachers are required to complete thirty hours yearly of high level professional development with emphasis on reading and math.
The components that have been outlined in this small space are only a portion of the strategies that Bethpage Elementary has included in its recipe for success. Our school motto is, "Learning Today, Leading Tomorrow." A second grade student suggested this in 1992. He is now in his final year of law school. Our Mission statement states simply that, "Our mission is to provide our students with daily opportunities for success through a challenging curriculum in a safe environment while instilling time-tested values." This says it all.