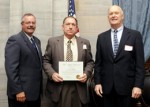 Third Place, West Division, K-8/Middle Schools
Neal Wright, Principal
29855 Highway 104, South
Reagan, TN 38368
Henderson County Schools
Recipe For Success:
The secret to our success at South Side Elementary School is willing students who are eager to learn and a dedicated staff that strives to provide a positive, encouraging and productive environment that enhances learning.  Our staff works closely together to share new learning skills that will benefit our students.  Test scores are analyzed and students that need extra remediation are identified.
Our teaching strategies include various technologies to accommodate a wide range of learning styles.  All classrooms are equipped with smart boards and computers that the teachers use to supplement learning skills. We have two computer labs that are available to students.
Think Link Learning, Education City and AR reading are some of the programs that are used to assess the needs of individual students.  Student Performance Indicators (SPI's) are evaluated and taught.
We use after-school tutoring for students who need remediation.  Our parents are encouraged to use Parent Portal to see how their child is progressing.
As a reward for all their hard work, students and staff are treated to a cook-out and fun day after TCAPS are finished.
We at South Side are proud of our school and community.  We are very blessed to have such a wonderful group of students and parents to work with.  We hope to continue to provide the best educational opportunities possible to help our students be successful in life.