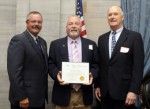 First Place, Middle Division, K-8/Middle Schools
Ronnie Scudder, Principal
134 SCMS Lane
Carthage, TN 37030
Smith County Schools
Recipe For Success:
SCMS: Strong Commitment Marks Success
The SCMS acronym is the reason that we are being honored with this accomplishment. This award has been made possible through the commitment of knowledge, time and resources of the faculty and staff. My commitment is to provide the best faculty and staff possible for our students. We strive to prepare students to become responsible citizens in society. My school is successful because the personnel work together to accomplish our common goal.
Curriculum, organization, instruction, assessment and discipline play important roles in the achievement of the students at SCMS. The school day is organized to protect instructional time.
Student's strengths and weaknesses are identified by disaggregating TCAP data. Teachers share the data within grade levels and between grade levels to identify best instructional practices. Profiles of individual students are studied to identify areas of non-proficiency for targeted instruction. Teachers often spend planning times meeting with students who need additional instruction.
The student's educational experience at SCMS begins with the opportunity for computer lab time in the morning. Computer Managed Instructional programs, such as BrainPop.com, StudyIsland.com and the A+ System are utilized in our two labs. Encore subjects allow students to explore and share their talents and abilities.
Teachers use results from ThinkLink tests to modify instruction for groups and individuals throughout the year. A month before the TCAP tests, skills, sub-skills and test-taking skills are reviewed. Tests are in the morning, but the afternoons are reserved for more relaxed review and recreation. Students look forward to our pizza party celebration to conclude TCAPs.
Pride, commitment, success—those words are common words used at SCMS. All, faculty, staff, and students received a t-shirt that states:
Property of Smith County Middle A-Team—All A's Value Added '05, '06, '07, '08 on the front and The Tradition Continues-Coming together is a beginning, Keeping together is progress, Working together is success- All A's Value Added '05, '06, '07, '08 on the back.
We wear this shirt to show our pride, commitment, and success. I am so proud to be a member of this team.