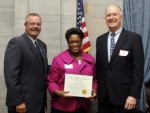 Second Place, Middle Division, K-8/Middle Schools
Ruth Murray , Principal
1300 56th Avenue North
Nashville, TN 37209
Davidson County Schools
Recipe For Success:
At McCann Alternative Learning Center, we value our students and their ability to learn and grow. We recognize their challenges and provide character education for our changing society. With such a strong emphasis on teaching and learning, we encourage the following:
Everyone analyzes our student data and we have meetings to share the information with our parents. Teachers must develop a plan of action to improve curriculum in areas where students are not succeeding.

Write an individualized education plan for all students based on TCAP results.
Use pre-assessments for early identification of strengths and weaknesses in the academics of all subgroups.
Based on Value Added Assessment data, dare to make changes in teacher placements in your program each year. Encourage professional development for all of your staff.
Plan faculty meetings to discuss curriculum, testing and No Child Left Behind. Go into classrooms often. Students want everyone involved in the learning process.
Criteria for promotion should include improvement on TCAP scores from year to year. Encourage summer programs for all students that are still falling below proficient. Our students are required to move up one level and if they are advanced, they must remain in that category.
Provide tutoring for all levels of TCAP. Remember, advanced students like the special attention as well.
Teacher self-evaluation is a powerful tool for young teachers. Ask the staff for suggestions to improve programs in all areas.
Celebrate successes and acknowledge everyone's hard work.
Make sure teachers are aware of the research-based practices used in "schools that work."
Remember Jeanie Oakes – "What is good for the best of them is good for the rest of them!"
Use the assessment and evaluation department in your school district to strengthen you as a professional and pass it on to your staff.
Dialogue with colleagues about strategies that work and implement them if they fit into your program.
Start with the end in mind.
Create student schedules that are relevant, rigorous, and have built-in success. As a magnet school teacher and assistant principal, we agreed to work students very hard but be slow to retain them. They benefit from the rigor of the curriculum, and at the middle school level they learn to face challenges and become better at solving problems.
Enhance inclusion practices to ensure that all students are introduced to the standards that are tested on TCAP.