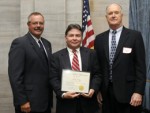 Third Place, East Division, K-8/Middle Schools
Marty Cosby, Principal
160 Hill Road
Harrogate, TN 37752
Claiborne County Schools
Recipe For Success:
Forge Ridge School is a K-8 school with 90.6% of the students economically disadvantaged. Our objective at Forge Ridge has always been to give each child the best education possible. As I tell my teachers at the beginning of each school year and throughout the year, "Students will achieve what is expected of them. We must have high expectations of all our students. We truly believe that every child can learn and be successful.
In order to be a successful school principal, I have to make sure to employ the best teachers possible. I look for certain qualities such as; team players who are dedicated to the teaching profession. If you surround yourself with good quality people success is easy. Securing quality staff development and in-service for my teachers is a top priority. Staff Development and in-service must be research based and include the 5 components of effective reading instruction. Our district level elementary supervisor, Dr. Janet Barnard continues to bring and present superior staff development and in-service to my teachers. I have increased the time of the reading blocks for K-8 from one hour to two hours daily. This has proven a very effective measure in our reading scores. We are now focusing on math without losing sight of the achievements we have made in reading. We have implemented two math intervention programs and I am looking at the possibility of increasing math time next year. Instruction time is crucial and it is important that it is protected. We make every effort that core classes are taught in the morning and no events are scheduled during this time. Also walk-through evaluations are conducted on a regular basis.
We have a literacy coach for grades K-8 that has been very successful. Our literacy coach works very hard across grade levels planning better communication among teachers and grade levels while securing the best teaching strategies for student achievement.
We also monitor each student's performance throughout the year with DIBELS and Princeton Review. These assessment programs alert teachers of growth and deficiencies in reading. Progress monitoring and interventions are provided for those students deemed at-risk.
Also our school operates an outstanding after school program that concentrates on academics as well as activities of interest, such as music, golf and cooking just to mention a few. Our after school program is exceptional in all areas.
The Claiborne County Board of Education, Dr. C. Eddie Shoffner, Director of Schools and the Central Office Personnel have been instrumental in providing expertise and financial support. Dr. Shoffner has also promoted a "Good to Great" philosophy throughout our school system.
We have implemented a very strong parent advisory board that I began two years ago. The board consists of random parents that meet quarterly and offer suggestions and helping hands when needed. They also act as a liaison between the community and school. We stress to all parents that together we are an important team in their child's education.
On behalf of the faculty, staff and students of Forge Ridge, it is an honor to be recognized as a recipient of the Education Consumers Foundation Value-Added Achievement Award.