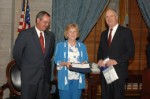 Third Place, West Division, Elementary Schools
Patricia White, Principal
9380 Highway 128
Savannah, TN 38372
Hardin County Schools
Website here
Recipe For Success:
The success that Walker Elementary has enjoyed for the past few years can be attributed to a variety of factors. A nurturing, family climate, a highly qualified staff, supportive parents, and most importantly, a community of eager, industrious learners have all combined to create the positive, goal-oriented environment that the entire Walker family shares.
A typical day at Walker begins with activities designed to promote wellness, critical thinking and responsibility. Students and stall are encouraged to do their best as they go through the day with lessons designed to challenge even the most reluctant learner.
Expectations for everyone in our school are high. We have established our own standards for measuring performance. In 2006, out leadership team adopted higher cut scores for determining levels of student achievement. Our students have embraced this challenge and met our expectations.
Organizational practices have also been beneficial to our increased achievement. Collegial planning, reading interventions, small class size, and increased parent involvement are all important aspects that have become the norm for our school. Teachers use daily planning time to conduct engaging, hands-on lessons that address data driven goals.
Paraprofessionals provide support by working with small groups and individual students. Every adult in our building has the well-being of our students at heart.
New teachers are selected only when they demonstrate the ability to communicate high expectations along with a willingness to go the extra mile. Educators are evaluated on the mandated state schedules as well as drop-in visits from the principal. Assignments are made based on degrees, experience and competency.
Walker prides itself on a low incidence of discipline problems. Most students come to school motivated and ready to learn. A positive atmosphere is present all over our campus and lends itself to student success.
Data is disaggregated and shared with stakeholders at the beginning of each year. Goals are clearly defined and constantly raise the bar for all members of our school family.
We will always strive to provide a quality education based on the belief that all children can and will rise to the expectation presented to them.