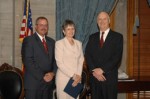 Third Place, Middle Division, Elementary Schools
Mary Lou Del Rio, Principal
260 Paragon Mills Road
Nashville, TN 37211
Davidson County Schools
Recipe For Success:
English Language Learners comprise 70% of the student population, 94% live at poverty level and the mobility rate is 44%. Many people would look at these demographics and see barriers, but at Paragon Mills we see challenges. Our mission is to help the students succeed despite the challenges they face each day.
At the beginning of each year our students are encouraged to be "Paragon Mills Students of Excellence". This philosophy is implemented daily in the PMES morning news and in the classrooms. Students are recognized weekly in our Citizens of the Week program. Each reporting period we celebrate student academic success in school assemblies. AAA Achievers are also acknowledged for their success in academics, attendance and attitude.
Schedules are created each year making every attempt to ensure that interruptions are at a minimum in order for quality learning to occur.
Collaboration is key to achieving the goals we have set for our students. Grade level teams meet weekly to analyze data and develop units of study which address the standards. Bi-weekly meetings held with the administration continue the discussion of data and academic concerns. The Reading Specialist provides training for current reading strategies on alternate weeks. School-wide decisions are made during bi-monthly School Leadership Team meetings.
As vacancies become available, highly qualified teachers and staff are selected whose focus is helping children to be successful despite their challenges. Those who are chosen are placed in the areas in which they would be most effective.
The district curriculum has provided a foundation for our students' growth. Specific blocks are set aside for reading and math. In addition to these specified times, response to intervention blocks have been created to assist our students in becoming successful readers.
Our Family School Coordinator provides monthly workshops in which parents are receiving the tools necessary to help their children at home. School events are communicated to the parents through daily agendas, newsletters and an automated phone system.
The factors that influence student success are many. We will continue to address these factors to ensure a positive learning environment where every child can succeed.