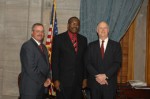 Second Place, West Division, Middle Schools
Curtis Weathers, Principal
3925 Chelsea Extension
Memphis, TN 38108
Memphis Schools
Website here
Recipe For Success:
Memphis Academy of Health Sciences Middle School (MAHS, pronounced Mause) is one of the first charter schools in Tennessee to open its doors. On July 18, 2003, students arrived at MAHS to what appeared to be a very chaotic beginning— furniture in the hallways, unopened boxes of supplies, parents and students unsure of where to report. Two things, however, were very clear: (1) our school mission, and (2) the road map that would guide us to successfully accomplishing it. Our vision at MAHS is "to become one of the best middle schools in the nation."
MAHS is a year-round school with extended instructional days that are 8 ½ hours long. This allows us to provide more time-on-task which results in expanded opportunities to learn for our students. MAHS has a research basedinstructional program that incorporates principles of Mastery Learning, Instructional Alignment, and the Effective Schools literature. These research-based practices are the keys to our academic success! The instructional program is a standards- based, data-driven approach to delivering classroom instruction. It is designed based on the belief that all students can learn at high levels given sufficient time and quality instruction. MAHS teachers focus on the essential knowledge students must know in order to be successful at both the middle and high school levels. Teachers continually assess students' progress and their own effectiveness with teacher-made formative assessments administered throughout the grading periods. End-of-year cumulative assessments, including TCAP Achievement and Gateway, school specific normative assessments, and authentic performances, provide data that shows students' individual growth and teacher effectiveness.
School spirit is important at MAHS. Students participate in a variety of extracurricular activities that makes school fun and creates middle school memories that they will cherish forever. Students enjoy a variety of sports activities, clubs and school organizations. At MAHS, we try to make the middle school experience an enjoyable one!
MAHS parents are very appreciative of the secure and nurturing environmentprovided to all MAHS students. Students enjoy a safe, orderly environment that is conducive to learning. With the support of our many non-profit and corporate partners (our sponsor 100 Black Men of Memphis, The MED, LeBonheur Children's Health Center, Bowden Gastroenterology Group) MAHS will continue its quest to "change lives, one mind at a time!"