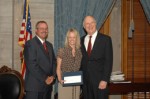 Second Place, East Division, Elementary Schools
Elisa Luna, Principal
4701 High School Road
Knoxville, TN 37912
Knox County Schools
Website here
Recipe For Success:
As any true educational leader is aware, there is not a cookie cutter approach to high, academic achievement in schools. However, after reflecting on the past five years as the principal of Inskip Elementary, it becomes apparent that many strategies and philosophies have led to our success.
At our school, we begin our focus not on the academic child but on the whole child. We ensure their basis needs are met first. Inskip Elementary is a Full Service Community School. Examples of these include sending home food with the students on the weekends, ensuring they have proper clothing and shelter as well as working with their parents to educate them to be successful in their communities. As Dr. Robert Kronick from the University of Tennessee states, "It is not a question on if the school will become a parent for students, it is will it become a good parent for them."
Ensuring schoolwide procedures are in place and consistent is another strategy that as led to our success at Inskip Elementary. These procedures allow all staff members to implement the same behavior intervention plans for all students which in turn creates a learning environment that centers on trust and respect. The same rules are taught by every teacher regardless of the grade level taught. Consistency is the key.
Assessment driven data is crucial at Inskip Elementary. Teachers are held accountable for administering assessments and analyzing the results of the assessments. The results of these assessments then drive instruction in each classroom. At the beginning of every school year, school and grade level goals are set. Teachers constantly revert back to these goals to determine how close they are to reaching the set goals during their assessment analysis meetings. Goals are the driving force at Inskip Elementary.
Lastly, each child that walks through the doors of Inskip Elementary deserves to be taught by a passionate and knowledgeable educator. As principals, we must not be intimidated to excuse educators from our buildings that are anything less than this. Having the right people at our school is crucial. Having fun, loving and supporting each other through the year has permitted the staff and I to have one of the most successful schools in the state.