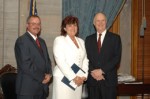 Third Place, East Division, Middle Schools
Linda Keck, Principal
6360 Highway 90
Clairfield, TN 37715
Claiborne County Schools
Website here
Recipe For Success:
When you enter Clairfield Elementary School, you will immediately recognize you are watching a well oiled machine. Everyone in the building is moving toward one aim-to do what is in the best interest of the children. The community, teachers, and parents have mobilized around the school to help it rise to its current success.
The first component of our school's success was the community's willingness to change old paradigms about the role the school played in the community. As old paradigms gave away to the new-the school was about children achieving high academic standards-difficult and controversial decisions had to be implemented by school leadership. Support for school leadership poured in from local level administration and state level administration to help our school pave the way to high academic achievement.
The second component of Clairfield Elementary's success was an increase in teaching quality. In order for children to learn at high levels, they must have continual access to highly effective, caring teachers who meet high state standards. Teachers are expected to continuously improve their knowledge and skills through professional development on programs such as DIBELS, Voyager passport, and ThinkLink. Also, teachers set rigorous expectations to drive student achievement. Finally, teachers are held by and accountability system and rewarded for strong results, and sanctioned for persistently failing test scores.
The third component to Clairfield Elementary's success is the parents. We involve parents in the life of the school, making it possible to support the learning process. Parents are encouraged to attend award ceremonies at the end of each six week term. Each ceremony is followed by a session with teachers where students' scores and test data are explained by the teacher. Also, parents can support faculty by helping students finish homework, and driving them to morning and evening tutoring sessions (funded by 21 st Century Grant.)Most of all, parents are always welcome to discuss concerns and problems with school leadership and teachers.
Success is not about making everyone happy; however, it is about the community, teachers, and parents finding one common goal to drive our children's academic success.