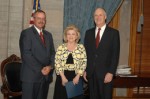 First Place, East Division, Elementary Schools
Teresa Leonard, Principal
348 Christian Church Road
Gray, TN 37615
Washington County Schools
Website here
Recipe For Success:
The "recipe for success" at Boones Creek Elementary School involves a highly-qualified, well-trained, and highly motivated group of teachers who believe all students can learn regardless of aptitude, socioeconomic status, and home environment. Parents support both the teacher and the school in its effort to educate their child. Paraprofessionals are highly-qualified and dedicated to assisting the teachers in the classroom.
Teaching today is more of a "science" than an "art". Our K-4 school continually charts student mastery of the Tennessee curriculum standards in math, reading, and other subjects. Each student has an "individual learning plan" which is developed by the use of various data and implemented by the teacher and additional staff members. This plan is designed to build on the pupil strengths and strategically emphasizes progress towards the improvement of weaknesses. Language arts and math are scheduled in large blocks of time.
Teachers participate in on-going research-based staff development to improve teaching strategies. These strategies include ways to create a student-centered classroom, various hands-on activities, brain-based learning, and methods of improving higher order thinking skills.
The administrator and teachers participate in grade-level meetings where student daily and weekly assessments are analyzed and discussed. School-wide progress charts on accelerated reading, math facts, creative writing papers, and six week report cards are reviewed by the principal. Parents are kept well informed by weekly teacher newsletters, monthly calendars, PTA newsletters, and a school web site. Tutoring and enrichment classes are offered before and after school in reading and math.
Student wellness and attendance are of major importance at Boones Creek Elementary. Health and fitness are major ingredients in consistent student academic progress.
Medical and dental needs take priority with our children as it promotes good health habits in the future.
Parent, business and community partnerships assist in various ways to assure all students attend school sponsored programs and events. Local colleges and universities partner with Boones Creek Elementary through the education and medical departments to assist in student wellness.
While our faculty, students, and parents recognize the importance of standardized test scores, we understand that social skills, good character, and acceptable behavior are needed to meet our goals. The motto "Children First" is taken seriously when dealing with student welfare and achievement at our school. It is indeed an honor to be associated with such an outstanding school.