Connecticut: Comparing schools and districts based on student proficiency
The information below reflects the most recent data available to us; please contact us with questions or to request additional analyses.
Analysis: Comparing schools and districts on third grade proficiency in reading and math
Available charts:
Note: In the case of missing percentages for proficiency, ECF estimated the missing numbers in the proportions suggested by the state NAEP distribution.
USER ALERT: For purposes of counting the number of students who are eligible for programs covered by the National Free Lunch Act, the Bridgeport school district has been permitted by the USDA to declare 100% of their students to be economically disadvantaged–despite substantial student eligibility variations among schools reported in previous years. As a result, exceptionally effective high-poverty schools in Bridgeport can no longer be distinguished from schools with relatively advantaged student populations and average or low effectiveness.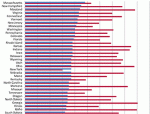 Comparing Connecticut's Proficiency Standards to the National "Gold Standard" (NAEP)
Each state defines for itself what "proficient" means; some states have a rigorous definition, while others are less strict in their standards. To see how states compare, ECF has published charts showing the percentage of students deemed proficient in various subjects and grade levels and compared them to percentages reported for each state by the National Assessment of Educational Progress (NAEP, or "The Nation's Report Card"), considered to be the gold standard.