Oklahoma: Comparing schools and districts based on student proficiency
The information below reflects the most recent data available to us; please contact us with questions or to request additional analyses.
Analysis: Comparing schools and districts on third grade proficiency in reading and math
Oklahoma is one of the few states for which NCLB-required 3rd grade reading proficiency scores are not freely available to the public. See the following note from the Oklahoma State Department of Education:
On Tuesday, December 3, 2013 10:02 AM, Matt Morgan <Matt.Morgan@sde.ok.gov> wrote:Any data requests must be processed through our legal department by submitting an open records request. The form can be found here http://ok.gov/sde/sites/ok.gov.sde/files/OpenRecordsRequest.pdf and submitted electronically to the email listed on the form or by mail to the address listed on the form. For more information about Open Records Act Requests and Oklahoma State Department of Education policies, visit our website: http://ok.gov/sde/open-records-request. Have a nice day!
Matthew Morgan
Data Analyst
Accountability and Assessment
Oklahoma State Department of Education
Phone: 405-521-3341
Email: Matt.Morgan@sde.ok.gov
Available charts:
Note: In the case of missing percentages, ECF estimated the missing numbers in the proportions suggested by the state NAEP distribution.
Note: If the free/reduced lunch percent for a school was reported as <5%, >95%, or as a range, it was changed to a whole number for graphing purposes.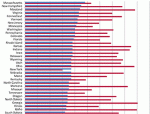 Comparing Oklahoma's Proficiency Standards to the National "Gold Standard" (NAEP)
Each state defines for itself what "proficient" means; some states have a rigorous definition, while others are less strict in their standards. To see how states compare, ECF has published charts showing the percentage of students deemed proficient in various subjects and grade levels and compared them to percentages reported for each state by the National Assessment of Educational Progress (NAEP, or "The Nation's Report Card"), considered to be the gold standard.